Our Interconnection Network Solutions
---
What is the interconnection network?
Orange offers interconnection solutions to Operators using an electronic communications network open to the public and to telephone service providers. Through these solutions, all users belonging to the interconnected networks can communicate freely with one another.
For an Operator, direct interconnection involves completing a call to an Orange subscriber. The call is routed by the Operator to the point of interconnection. From there, Orange supports the call on its network until it reaches the subscriber.  
Indirect Interconnection:
Interconnection is considered to be indirect when Orange routes the traffic of one of its network subscribers, to the point of interconnection of another Operator's network. This then allows the subscriber to become a customer of the Operator in question and use its services.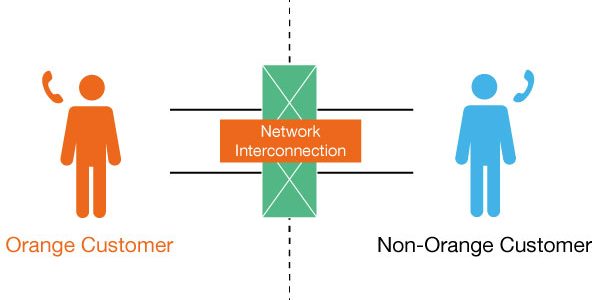 Operators can be interconnected with Orange's fixed and/or mobile network using Time Division Multiplexing (TDM) or Internet Protocol (IP). As IP is rolled out, it replaces the TDM mode.
Interconnection with the Orange Fixed Network:
Depending on the mode of interconnection, the architecture of the interconnection network and the points of interconnection offered to Operators differ in terms of the quality and technical availability of all communications sent via Orange's fixed network. Orange's fixed network offers 4 types of access points that Operators can use to deliver or collect their traffic:
 – Access to a subscriber switch (SS)
 – Access higher up the network to a transit switch via an Operator Network Connection Point (ONCP)
 – Access to a Video Telephony Connection Point (VTCP), whose list is a subset of the Operator Network Connection Point (ONCP)
 – Access to a National Connection Point (NCP) 
IP Mode via the Voice over IP solution
Orange's fixed IP network in mainland France is organised into a single traffic delivery area that provides access to all customers in Orange's IP local loop. A single type of access point to Orange's IP network (Voice over IP service point) is proposed for the delivery of traffic from third-party operators via an NCP.
Each NCP comprises a pair of physical sites, each having its own physical address, or a pair of inseparable connection points. There are 5 NCPs in mainland France, so 5 pairs of physical sites or connection points.
SIP and SIP-I protocols are used for the IP interconnection.
Employing the direct interconnection mode via the Orange network, the inter-operator transmission service allows Operators to reach all subscribers belonging to alternative Operators interconnected to the Orange fixed network. To do this, they can use either their ONCP in Superfast Broadband or their NCP in IP.
Interconnection with the Orange Mobile Network  
Operators connect to the Orange mobile network via xxx interconnection points in TDM mode and yyy interconnection points in IP mode. The interconnection protocol is SIP-I.